TOKYOIDS "THE ROBOTIC FACE OF ARCHITECTURE"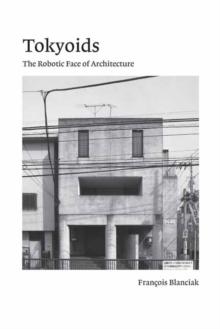 Autor/es
EAN: 9780262544238
ISBN: 978-0-262-54423-8
Editorial:

MIT PRESS

Año de la edición: 2022
Encuadernación: Rústica
Páginas: 224
Stock en Librería. Envío en 24/48 horas
pvp 30,00 €
---
In Tokyoids, architect François Blanciak surveys the robotic faces omnipresent in Tokyo buildings, offering an architectural taxonomy based not on the usual variables'size, material, historical style'but on the observable expressions of buildings. Are the eyes (windows) twinkling, the mouth (door) laughing? Is that balcony a howl of distress? Investigating robot aesthetics through his photographs of fifty buildings, Blanciak argues that the robot face originated in architecture'before the birth of robotics'and has played a central role in architectural history. Blanciak first puts the robot face into historical perspective, examining the importance of the face in architectural theory and demonstrating that the construction of architecture's emblematic portraits triggered the emergence of a robot aesthetics. He then explores the emotions conveyed by the photographed buildings' robot faces, in chapters titled 'Awe,' 'Wrath,' 'Mirth,' 'Pain,' 'Angst,' and 'Hunger.' As he does so he considers, among other things, the architectural relevance of Tokyo's ordinary buildings; the repression of the figural in contemporary architecture; an aesthetic of dismemberment, linked to the structure of the Japanese language and local building design; and the influence of automation technology upon human interaction. Part photographic survey, part theoretical inquiry, Tokyoids upends the usual approach to robotics in architecture by considering not the automation of architectural output but the aesthetic properties of the robot.
Otros libros del mismo autor