TOKYO. CITIX60 LOCAL CREATIVES BRING YOU THE BEST OF THE CITY.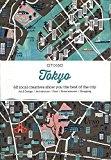 Autor/es
EAN: 9789887850090
ISBN: 978-988-785-009-0
Editorial:

VICTIONARY

Año de la edición: 2018
Encuadernación: Rústica
Páginas: 130
Sin stock. Envío en 15/30 días
pvp 12,00 €
---
Home to all kinds of cultural extremes, Tokyo is where futuristic meets traditional and tranquility meets speed. Jacketed in a delightful city map drawn by Masako Kubo, CITIx60 Tokyo gives you a good, varied taste of what the Japanese capital has to offer. Endorsed by 60 local ambassadors, all known for their accomplishments in the creative industry, the 60 hangouts list architecture, art spaces, shops and markets, dining and nightime activities, accompanied by Google Map QR code, top tips and useful apps to ease your trip. Readers will find updated visitor info, new locations and cultural events in this revised edition.
Otros libros del mismo autor