STRUCTURAL ENGINEER'S POCKET BOOK. 2 ED.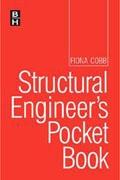 Sin stock. Envío en 15/30 días
pvp 33,00 €
---
Until now there has been no comprehensive pocket reference guide for professional and student structural engineers. The "Structural Engineers Pocket Book" is a unique compilation of all table, data, facts, formulae and rules of thumb needed for scheme design by structural engineers in the office, in transit or on site. By bringing together data from many sources, this pocket book is a compact source of job-simplifying information at an affordable price. It is a first point of reference as well as saving valuable time spent trying to track down information that is needed on a daily basis. This may be a small book in terms of its physical dimensions, but it contains a wealth of useful engineering knowledge. Concise and precise, the book is split into 13 sections, with quick and clear access to subject areas including: timber, masonry, concrete, aluminium and glass.
Otros libros del mismo autor