PARADIGMS IN COMPUTING "MAKING, MACHINES, AND MODELS FOR DESIGN AGENCY IN ARCHITECTURE"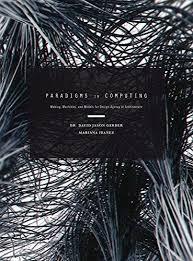 Autor/es
EAN: 9781938740091
ISBN: 978-1-938740-09-1
Editorial:

ACTAR

Año de la edición: 2015
Encuadernación: Cartoné
Páginas: 408
Sin stock. Envío en 15/30 días
pvp 58,60 €
---
Paradigms in Computing: Making, Machines, and Models for Design Agency in Architecture investigates and instigates critical, theoretical, and practical research and design that illustrate the plurality of computing approaches within the broad spectrum of design and mediated practices. This book is an exploration of critical discourse in the form of theoretical work, as well as design projects illustrated through the pervasive and tightly coupled nature of computing and digital theory with modes and models of design research and production. This book proposes, explores, and argues for and against the plurality of paradigms of computing within contemporary research and architectural practice. Through the combination the book investigates the digital as a form of agency within architecture and the expanding design disciplines akin and adjacent to it. Arguably, the convergence of the cyber, physical, and social is producing a potent set of possibilities that challenges and fosters an open polemical debate of the notions of Design Agency and the pluri-potent Paradigms in Computing for design practice. By soliciting contributors from the fields of Design, Architecture, Media Arts, Science, Engineering, Philosophy, and Cultural Theory, Paradigms in Computing will lend itself to furthering this discourse. In order to elicit critical discussion, the book sought answers and provocations to the questions of integration, disintegration, and or novel realizations of computation for design practices from within these fields of inquiry and for the highly information-rich built environments of today and the future. Paradigms in Computing: Making, Machines, and Models for Design Agency in Architecture is a curated series of essays and projects. Articles that provoke discussion around and about the theme of Paradigms and Design Agenciesare particularly interesting to our sense for the making, machines, modes, methods, and models that incorporate, invent, and/or illustrate Design Agency, and discuss similar or contrary positions with respect to contemporary paradigms of computing in and for design.
Otros libros del mismo autor