MUTATION AND MORPHOSIS "LANDSCAPE AS AGGREGATE"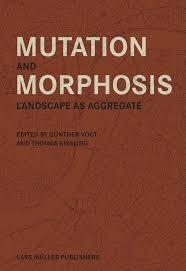 Autor/es
EAN: 9783037786185
ISBN: 978-3-03778-618-5
Editorial:

LARS MULLER VERLAG

Año de la edición: 2019
Encuadernación: Cartoné
Páginas: 784
Stock en Librería. Envío en 24/48 horas
pvp 62,50 €
---
Edited by Günther Vogt, Thomas Kissling, in collaboration with VOGT Landscape Architects, Case Studio VOGT, and the Chair for Landscape Architecture, ETH Zurich With essays by Maria Alexandrescu, Laure Baretaud, Coralie Berchtold, Amalia Bonsack, Maren Brakebusch, Violeta Burckhardt, Thomas Kissling, Lars Ruge, Alexandra Savtchenko-Belskaia, Roland Charles Shaw, Martijn Slob, Daia Stutz, Gu¨nther Vogt, Ralf Gu¨nter Voss With contributions by Julius von Bismarck, Julian Charrière, Chris Dercon, Roger Diener, Olafur Eliasson, Katja Gentinetta, Andreas Greiner, Dehlia Hannah, Roni Horn, Marguerite Humeau, Dafi Ku¨hne, Christian Vogt Anyone viewing what we call a 'landscape' from a distance will recognize that it is an artifact, a habitat created by humans as part of our built environment. Designing this realm carefully is a discipline that is taking on increasing importance today. Gu¨nter Vogt, with his practice in VOGT Landscape Architects and as a professor at ETH Zu¨rich, has developed a set of tools and a working method that incorporate all the different dimensions of the human-designed environment, from the large-scale landscape to the small-scale urban public space. Mutation and Morphosis looks at all the many aspects involved in the collective process of designing and shaping landscapes, from planning to implementation. The model as a tool and the collection as a driving force are illustrated on the basis of an astonishing variety of topics. In theoretical discussions and the examination of detailed dossiers of facts on the ground, a trajectory is traced: from the emergence of new landscapes as a result of climate change to the migration of the wolf to Central Europe, from the impact of invasive plants to the study of geological formation processes. The panorama that unfolds gives us insights into the broad context that landscape architects must consider in their work, exemplified by the outstanding projects realized by VOGT.