MONTECITO STYLE "PARADISE ON CALIFORNIA'S GOLD COAST"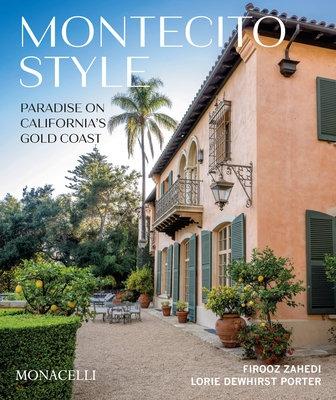 Autor/es
EAN: 9781580935951
ISBN: 978-1-58093-595-1
Editorial:

MONACELLI PRESS

Año de la edición: 2022
Encuadernación: Cartoné
Páginas: 296
Sin stock. Envío en 3/8 días
pvp 55,00 €
---
The seaside town of Montecito is often overshadowed by its neighbor Santa Barbara?which is generally how its residents like it. Though home and refuge to numerous celebrities, Montecito's intentional cultivation of a low-key profile has allowed for a unique community to emerge, and with it, a multifaceted interior and garden design culture. Montecito Style: Paradise on California's Gold Coast is the first book to present twenty houses and landscapes in an eclectic range of styles and rich architectural legacy that coalesce into a quintessential 'California style.' The residences featured in this book reflect the diversity of design that has defined California living for more than a century: early standard-setters by George Washington Smith and an Andalusian-style abode by his protégé (and Santa Barbara's first licensed female architect) Lutah Maria Riggs, Beaux-Arts mansions, converted carriage houses, nouveau palazzi, low-slung midcentury modern abodes, an iconic concrete-and-glass house from the 1970s, and even a studio apartment above a garage. With houses and gardens by prominent interior and landscape designers?from the home of living legend John Saladino, and recent projects by Richard Hallberg, Daniel Cuevas, Stacy Fausset, and Lee Kirch?Montecito Style provides an inside look at this coastal design haven. Heavily illustrated, Montecito Style features more than 250 photographs by celebrity and interiors photographer Firooz Zahedi, alongside captivating text by established design writer Lorie Dewhirst Porter, both longtime residents of the area. Zahedi's photographs are alluring, and his passion for these homes and gardens is palpable, as well as the design elements and art collections of these creative homeowners. An informed foreword by Marc Appleton, an architect and California architectural history expert, also helps establish the local context for these homes. Montecito is the hidden Southern California treasure, and with Montecito Style, readers will experience peak interior inspiration and have unprecedented access to this truly special design haven in all its coastal glory. Montecito es una comunidad costera a menudo eclipsada por su vecina Santa Bárbara, que es generalmente como les gusta a sus residentes. Aunque es el hogar y el refugio de numerosas celebridades como Steve Martin, Drew Barrymore y el Príncipe Harry y Meghan Markle, el cultivo intencional de un perfil discreto ha permitido que surja un enclave único y, con él, un diseño interior y de jardines multifacético. Desde los primeros estándares del siglo XX en el estilo del renacimiento colonial español de George Washington Smith hasta los proyectos de establecimiento de estilo de John Saladino y el trabajo más reciente de los destacados diseñadores de interiores y paisajistas Pamela Shamshiri, Michael S. Smith y Lee Kirch, las casas y jardines de Montecito demuestra una amplia gama de estilos y épocas de diseño. Firooz Zahedi y L. D. Porter, ambos residentes de la zona desde hace mucho tiempo, exploran este refugio de diseño en todo su esplendor costero.