LA FAMILIA ADDAMS "Y OTRAS VIÑETAS DE HUMOR NEGRO"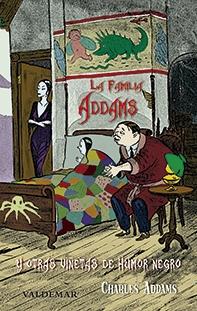 Autor/es
EAN: 9788477028727
ISBN: 978-84-7702-872-7
Editorial:

VALDEMAR (ENOKIA, S.L.)

Año de la edición: 2017
Colección: Grangaznate
Encuadernación: Cartoné
Páginas: 320
Sin stock. Envío en 3/8 días
pvp 22,00 €
---
Charles Samuel Addams nació en Wesfield (News Jersey) en 1912. El domicilio familiar, una casa de tres plantas en Elm Street, serviría de inspiración a Addams para crear el gótico hogar de La Familia Addams. Estudió en la escuela secundaria de Westfield, donde fue nombrado director de arte de la revista estudiantil Weather Vane, en la que publicó buen número de viñetas hasta que se graduó en 1929. Guiado por su vocación de dibujante, se matricula en la Grand Central School of Art de Nueva York y empieza a enviar viñetas y dibujos al The New Yorker en 1935. Las primeras viñetas de la familia Addams aparecieron en The New Yorker en 1937, y tres años después el periódico ofrece a Addams incorporarse a su plantilla, en la que permaneció publicando con regularidad sus viñetas, unas mil trescientas, hasta su fallecimiento en 1988. Todo este trabajo gráfico fue reunido en una docena de libros publicados por Addams a lo largo de su vida, desde Drawn & Quartered, en 1942, hasta Creature Conforts, en 1981. En 1991 apareció un album recopilatorio titulado The World of Charles Addams, obra que ha servido de base para la presente edición de La familia Addams y otras viñetas de humor negro, en la que se dan cita todos los personajes favoritos del dibujante y humorista --no sólo los conocidos miembros (Morticia, Gómez, Miércoles, Fétido o Cosa) de la siniestra familia--, y en la que se pone de manifiesto, gracias a una amplia selección de sus trabajos, el genio humorístico único de Charles Addams, morboso y macabro, epatante, desternillante y rayano en ocasiones en un delicioso mal gusto.