ICONOGRAPHY AND ELECTRONICS UPON A GENERIC ARCHITECTURE** "A VIEW FRON THE DRAFTING ROOM"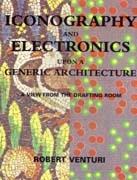 Sin stock. Envío en 15/30 días
pvp 27,14 €
---
Robert Venturi's Complexity and Contradiction in Architecture and Learning from Las Vegas (the latter coauthored with Denise Scott Brown and Steven Izenour) are among the most influential books by any architect of our era'the one celebrating complexity in architecture, the other the uses of symbolism in commercial and vernacular architecture and signage. This new collection of writings in a variety of genres argues for a generic architecture defined by iconography and electronics, an architecture whose elemental qualities become shelter and symbol.
Otros libros del mismo autor