HABRAKEN: THE SHORT WORKS OF JOHN HABRAKEN "WAYS OF SEEING / WAYS OF DOING"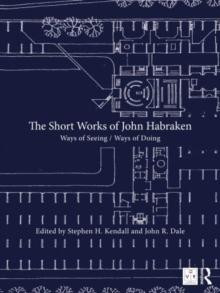 Autor/es
EAN: 9780367820077
ISBN: 978-0-367-82007-7
Editorial:

TAYLOR & FRANCIS

Año de la edición: 2023
Encuadernación: Cartoné
Páginas: 494
Stock en Librería. Envío en 24/48 horas
pvp 99,00 €
---
Provides, for the first time, access to a chronological arc of John Habrakens' writing in a single collection. Includes over 250 illustrations and interview with the author to enable him to reflect on his journey of inquiry, research, advocacy and teachingHis record of accomplishments, too often unrecognized for their seminal value, is remarkable and without match, and continues to enjoy an expanding worldwide following.
Otros libros del mismo autor