DRIENDL: APOP LIVING: ...APARTMENTS, HOUSES, CITIES.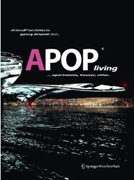 Autor/es
EAN: 9783709101162
ISBN: 978-3-7091-0116-2
Editorial:

SPRINGER VERLAG

Año de la edición: 2011
Encuadernación: Rústica
Medidas: 0 X 0 cm.
Páginas: 318
Stock en Librería. Envío en 24/48 horas
pvp 51,00 €
---
Driendl is one of Austria's most respected architects. His buildings show a quality level that is seldom reached. Not only do they withstand a second glance, but they even require it. Catchwords like "wit" and "innovation" might here give an approximate description of his abilities. His buildings feature on the cover and are in the table of contents of trend setting architecture journals such as GA, AD, Abitare, and others.
APOPliving is a very individual book in which Georg Driendl, in cooperation with specialists, covers the entire range of the topic "living". Like in a theatre play, he divides the topics into acts and gives each actor a second name. An extract: orchid: architecture; bay-leaves: money; oak wood: construction authority.
The book offers a monographic overview on Driendl's residential buildings and is thus a response to the large international demand. In the same time, the architect arranges an experts' dialogue filling with life the totality of residential theories.