DASH. NEW OPEN SPACE IN HOUSING ENSEMBLES. NIEUWE OPEN RUIMTE IN HT WOONENSEMBLE. "DELFT ARCHITECTURAL STUDIES ON HOUSIGN"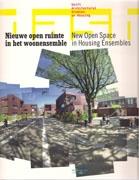 Autor/es
EAN: 9789056626549
ISBN: 978-90-566-2654-9
Editorial:

NAI UITGEVERS

Año de la edición: 2009
Encuadernación: Rústica
Medidas: 22 X 28 cm.
Páginas: 160
Sin stock. Envío en 15/30 días
pvp 31,00 €
---
The first issue of DASH, with the title ''New Open Space in Housing Ensemble', investigates the trend of semi-public space emerging around residential buildings. This is space that, in principle, is publicly accessible, but because of its situation, design and articulation it possesses a more private character and seems to belong to the buildings that define it. This phenomenon is nothing new, as is evident from the historical projects that are presented. However, the recent revival seems to be driven by different forces and results in public space that is different in kind to that which has emerged in the past.
Otros libros del mismo autor