BO BARDI: LINA BO BARDI. CASA DE VIDRO. SAO PAULO, BRAZIL 1950-1951. PHOTOGRAPHED BY YUKIO FUTAGAWA "GA RESIDENTIAL MASTEPIECES 22"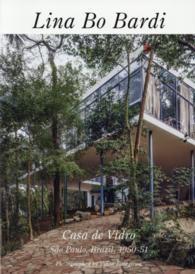 Autor/es
EAN: 9784871406475
ISBN: 978-4-87140-647-5
Editorial:

ADA EDITA TOKYO CO

Año de la edición: 2016
Encuadernación: Rústica
Páginas: 60
Stock en Librería. Envío en 24/48 horas
pvp 34,00 €
---
In 1951 Bo Bardi designed the "Casa de Vidro" ('Glass House') to live with her husband in what was then the remnants of the Mata Atlantica, the original rain forest surrounding São Paulo. Located on a 7,000-square-metre plot of land, it was the first residence in the Morumbi neighbourhood.[1] The area is now the wealthy suburb of Morumbi but a more domesticated version of the rain forest has since re-established itself around the house, concealing it from view. The main part of the house is horizontal between thin reinforced concrete slabs with slender circular columns. The columns are pilotis, which allows the landscape to flow under the building. Inside, the main living area is almost completely open, except for a courtyard that allows the trees in the garden below to grow up into the heart of the house. In the house, there are zones allocated to different functions- a dining room, a library, and a sitting area around the freestanding fireplace- but all are unified by the forest views through the glass. In theory, the glass panels slide open horizontally, but there is no balcony to encourage people to go outside. The living area is only half of the house. The other half sits on solid ground at the top of the hill, on the north side of the living room. A row of bedrooms face a narrow courtyard, on the other side of which is the blank wall of the staff wing. Only the kitchen crosses the divide- a territory shared by servants and mistress, and equipped with a variety of well-designed labor-saving devices.
Otros libros del mismo autor