AD Nº 180 TECHNIQUES AND TECHNOLOGIES IN MORPHOGENETIC DESIGN.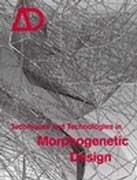 Autor/es
EAN: 9780470015292
ISBN: 978-0-470-01529-2
Editorial:

JOHN WILEY & SONS, INC.

Año de la edición: 2006
Encuadernación: Rústica
Medidas: 0 X 0 cm.
Páginas: 128
Sin stock. Envío en 15/30 días
pvp 37,00 €
---
This issue of AD introduces a new approach to architectural practice based on the interrelationship of emergence and self-organisation concepts. A sequence to the successful Emergence: Morphogenetic Design Strategies title by the same guest-editors, it advances on the previous publication by taking on board the latest developments for fully integrated design evolution, manufacturing and construction. Emergence requires the recognition of architectural structures not as singular and fixed bodies, but as complex energy and material systems that have a lifespan, exist as part of the environment of other active systems, and as an iteration of a series that proceeds by evolutionary development.Thus the focal point of this issue will be the exploration of techniques and technologies that enable the implementation of such morphogenetic strategies, requiring a new set of intellectual and practical skills. Though the publication stands alone as an investigation and presentation of cutting-edge techniques and technologies within the design and construction field supported by examples from adjacent industries, it also introduces a new springboard for understanding and rethinking the radical changes in which architecture is now being conceived, designed and produced. While representing a timely exploration of the embedding of techniques and technology in an alternative design approach, it also presents wholly new strategies for tackling issues of sustainability.
Otros libros del mismo autor