50 URBAN BLOCKS 2 55 CARTAS "HOW TO USE FORM, FLOOR AREA RATIO & DENSITY"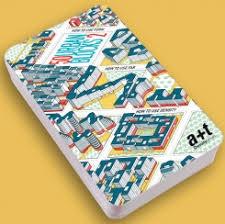 Autor/es
EAN: 9788409253555
ISBN: 978-84-09-25355-5
Editorial:

A+T EDICIONES

Año de la edición: 2021
Encuadernación: Cartoné
Páginas: 55
Sin stock. Envío en 15/30 días
pvp 22,00 €
---
50 Urban Blocks 2 combines Form, Floor Area Ratio and Density in 50 examples that organize a given block, propose housing units and add space for other uses that boost urban life.Citadels, Patios, Archipelagos, Amoebas, Snakes, Barcodes, Clusters, Labyrinths, Dice and Chunks are the ideas that inspire this deck of cards. These urban forms breathe through their openings, through the relationships among volumes, through the participation of emptiness in the composition and through fragmentation. They connect with the environment through unexpected visuals. They avoid individualism and encourage community interaction.
Otros libros del mismo autor
Otros libros del mismo autor