50 HOUSING FLOOR PLANS "CRITERIA FOR ESTIMATED PRIVACY & EXTERIOR-NESS OF DWELLINGS"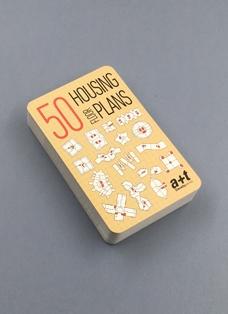 Autor/es
EAN: 9788469789681
ISBN: 978-84-697-8968-1
Editorial:

A+T EDICIONES

Año de la edición: 2018
Encuadernación: Cartoné
Páginas: 55
Stock en Librería. Envío en 24/48 horas
pvp 22,00 €
---
50 Housing Floor Plans is the second pack of the a+t research group collection aiming to promote the compact city and the desirable dwelling.Criteria for Estimated Privacy & Exterior-ness. a+t research group analyses all of the projects in terms of Privacy and Exterior-ness, the two behaviours which best define the desirable dwelling. Each card in the pack shows the floor plan and a housing unit of a project. Front of each card estimates the level of Privacy of the dwellings taking into account: - vertical circulation cores - horizontal circulation floor area - real project heights - number of housing units per storey Back of each card estimates the level of Exterior-ness of the housing unit in terms of: - exterior space % - facade % - number of orientations - width of openings - depth of the housing unit Imperial and metric systems are used. The compact size of the pack (13x8 cm / 5x3 in) makes it easy to quickly compare and identify the advantages of each different floor plan. '50 Housing Floor Plans is our bid to disseminate the collective housing in which we would like to live. It is not a pack of playing cards. It is a pack for better living". a+t research group. The collection of cards is part of the Density series, first published by a+t in 2002 and considered to be a leading reference work on collective housing worldwide. Containing 50 floor plans from recent collective housing buildings (2000-2017) with different sizes and forms (Z-shape, Butterfly, Spine, Empty Circle, Cactus), in addition to 50 housing units taken from projects.
Otros libros del mismo autor
Otros libros del mismo autor