50 BAUHAUS ICONS YOU SHOULD NOW "YOU SHOULD KNOW"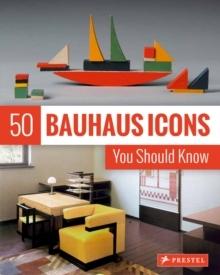 Autor/es
EAN: 9783791384542
ISBN: 978-3-7913-8454-2
Editorial:

PRESTEL VERLAG

Año de la edición: 2018
Encuadernación: Rústica
Páginas: 160
Sin stock. Envío en 15/30 días
pvp 20,00 €
---
50 Bauhaus Icons you should know Founded by Walter Gropius in 1919, the Bauhaus School had an enormous impact on the arts and everyday life. Fifty of the most representative pieces of Bauhaus art and design are presented here in illuminating and readable two-page spreads. This book selects the artists, buildings, furniture pieces, theatrical productions, toys and textiles that epitomize the Bauhaus ideal of uniting form and function. Artists such as Josef Albers, László Moholy-Nagy, Wassily Kandinsky, and Joost Schmidt are featured along with lesser-known but equally important designers and artists. Anyone interested in the history and accomplishments of the Bauhaus will find much to learn and enjoy in this unique compilation that reveals the movement's range as well as its influence on today's artistic practice.