INTERIORS "THE GREATEST ROOMS OF THE CENTURY,BLACK EDITION."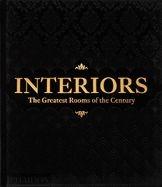 Sin stock. Envío en 3/8 días
pvp 69,95 €
---
Una increíble colección de los mejores espacios donde vivir creados y/o encargados por las personas más importantes en el mundo del diseño de interiores. Presentamos la guía definitiva de Interiores y decoración con más de 400 interiores seleccionados por su importancia, ordenados alfabéticamente (incluimos línea temporal al final) y acompañados de textos que los contextualizan. -La entrada alfabética puede ser el nombre del diseñador (Alvar Aalto o Ward Bennet), arquitecto (Luis Barragán), artista (Frida Kahlo, Dalí, Pablo Picasso), o icono (Jennifer Aniston, Meg Ryan, Anjelica Huston, Gloria Vanderbilt, Nelson Rockefeller, Jacqueline Kennedy y Madonna) cuya influencia y personalidad es la que marca el estilo y el diseño de la habitación. Incluye a los grandes del interiorismo como Elsie de Wolfe, Billy Baldwin, and Colefax & Fowler, Anouska Hempel, Kelly Hoppen, and Karim Rashid y casas de diseñadores de koda famosos como Giorgio Armani, Gianni Versace, Yves Saint Laurent, Coco Chanel, Christian Dior, o Calvin Klein.
Otros libros del mismo autor
Otros libros del mismo autor