INÉDITOS 2017 "I WOULD PREFER NOT TO / GRASPING A CONCEPT IS MASTERING THE USE OF A FORM / SCENOGRAPHIES OF POWER"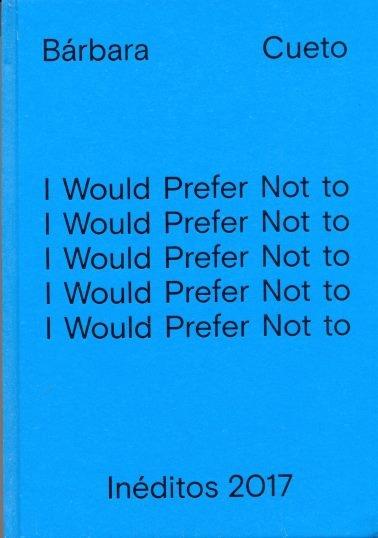 Autor/es
EAN: 9788469736890
ISBN: 978-84-697-3689-0
Editorial:

LA CASA ENCENDIDA

Año de la edición: 2017
Encuadernación: Cartoné
Páginas: 248
Sin stock. Envío en 3/8 días
pvp 15,00 €
---
Inéditos 2017 inéditos es una convocatoria que desde el año 2002 se realiza en la casa encendida y fomenta la inserción de los jóvenes comisarios en los circuitos profesionales, facilitando a los tres seleccionados la posibilidad de producir su primera exposición y editar un catálogo de la misma. los proyectos ganadores de 2017 son: i would prefer not to, comisariada por bárbara cueto; scenographies of power: from the state of exception to the spaces of excepcion(escenografias de poder: del estado de excepción a los espacios de excepción), comisariada por maite borjabad lópez-pastor y grasping a concept is mastering the use of a form (comprender el concepto del uso de la forma), comisariada por Beatriz Ortega Botas.
Otros libros del mismo autor