CHIPPERFIELD: DAVID CHIPPERFIELD ARCHITECTS. DETAIL . 2 EDIT. REV.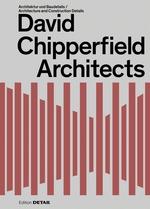 Autor/es
EAN: 9783955534660
ISBN: 978-3-95553-466-0
Editorial:

DETAIL

Año de la edición: 2019
Encuadernación: Cartoné
Páginas: 200
Stock en Librería. Envío en 24/48 horas
pvp 52,90 €
---
David Chipperfield's architecture stands for clarity and minimalism, for a successful combination of proven ideas and innovation. He aims for architecturally, socially and intellectually sophisticated solutions - which is why DETAIL has regularly published reports, interviews, discussions and many project documentations since the foundation of his practice in 1985. As customary, this monograph of publications in DETAIL by the David Chipperfield Architects practice takes a closer look behind the scenes, describes processes and shows above all: many construction details.
Otros libros del mismo autor